Privacy policy
1 General
(1) In the following we inform about the collection of personal data when using our website. Hotel ELEÓN takes the protection of the personal data of its guests and also interested parties very seriously. Personal data is all data that can be related to you personally, e.g. name, address, e-mail addresses, user behavior.
(2) The person responsible pursuant to Art. 4 (7) EU General Data Protection Regulation (DS-GVO) is
Hotel ELEÓN
Badstraße 17
75385 Bad Teinach-Zavelstein
Germany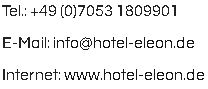 Authorized to represent managing director: Helene Brose
The controller is the natural or legal person who alone or jointly with others determines the purposes and means of the processing of personal data (e.g. names, e-mail addresses or similar).
(3) When you contact us by e-mail or via a contact form, the data you provide (your e-mail address, name and telephone number, if applicable) will be stored by us in order to answer your questions. We delete the data accruing in this context after the storage is no longer necessary or restrict the processing if there are legal retention obligations.
(4) For security reasons and to protect the transmission of confidential content that you send to us as the site operator, this site uses SSL or TLS encryption. You can recognize an encrypted connection by the fact that the address line of the browser changes from "http://" to "https://" and by the lock symbol in your browser line.
If SSL or TLS encryption is activated, the data you transmit to us cannot be read by third parties.
2 Your rights
(1) You have the following rights with respect to us regarding personal data concerning you:
– Right to information,
– right to rectification or erasure,
– right to restriction of processing,
– right to object to processing,
– right to data portability.
(2) You also have the right to complain to a data protection supervisory authority about our processing of your personal data. To exercise your rights, you can contact us via the contact form or at the above email address.
3 Collection of personal data when visiting our website
(1) In principle, you can visit our websites without telling us who you are. Our web servers automatically store information of a general nature. This includes the type of web browser, the operating system used, the domain name of your Internet service provider, the website from which you visit us, the web pages you visit on our site and the date and duration of the visit. This is exclusively information that does not allow any conclusions to be drawn about your person. We evaluate this data only for statistical purposes and only in anonymous form.
(2) In addition to the previously mentioned data, cookies are stored on your computer when you use our website.
Use of cookies (see also cookie explanation below)
Like many other websites, we also use so-called "cookies". A cookie is a small text file that is stored on your hard drive by a website. Cookies do not cause any damage to your computer and do not contain viruses. The cookies on our Internet pages do not collect any personal data. We use the information contained in cookies to make it easier for you to use our pages and to tailor them to your needs. Of course, you can also view our website without cookies. If you do not want cookies to be stored on your computer, you can deactivate the corresponding option in the system settings of your browser. You can delete stored cookies in the system settings of your browser at any time. If you do not accept cookies, however, this may lead to functional restrictions of our offers.
4  Analysis tool and advertising
This website uses the WP Statistics analysis tool to statistically evaluate visitor traffic. Provider is Veronalabs, ARENCO Tower, 27th Floor, Dubai Media City, Dubai, Dubai 23816, UAE (https://veronalabs.com). WP Statistics allows us to analyze the use of our website. WP Statistics collects, among other things, log files (IP address, referrer, browser used, origin of the user, search engine used) and actions that website visitors have taken on the page (e.g. clicks and views). The data collected with WP Statistics is stored exclusively on our own server. The use of this analysis tool is based on Art. 6 (1) lit. f DSGVO. We have a legitimate interest in the anonymized analysis of user behavior in order to optimize both our website and our advertising. If a corresponding consent has been requested, the processing is carried out exclusively on the basis of Art. 6 para. 1 lit. a DSGVO and § 25 para. 1 TTDSG, insofar as the consent allows the storage of cookies or access to information in the user's terminal device (e.g. device fingerprinting) within the meaning of the TTDSG. The consent can be revoked at any time.
IP anonymization
We use WP Statistics with anonymized IP. Your IP address will be shortened, so that it can no longer be can no longer be directly assigned to you.
5 Plugins and Tools
On our website, we use Google reCAPTCHA to check and prevent interactions on our website by automated access, e.g. by so-called bots. This is a service of Google LLC, 1600 Amphitheatre Parkway, Mountain View, CA 94043 USA, hereinafter referred to as "Google".
Through certification under the EU-US Privacy Shield ("EU-US Privacy Shield")
https://www.privacyshield.gov/participant?id=a2zt000000001L5AAI&status=Active
Google guarantees that the data protection requirements of the EU are also complied with when processing data in the USA.
Through this service, Google can determine from which website a request is sent as well as from which IP address you use the so-called reCAPTCHA input box. In addition to your IP address, other information may be collected by Google that is necessary for the offer and guarantee of this service.
The legal basis is Art. 6 para. 1 lit. f) DSGVO. Our legitimate interest lies in the security of our website and in the defense against unwanted, automated access in the form of spam or similar.
Google provides further information on the general handling of your user data at  https://policies.google.com/privacy
6 Contact form and inquiries by e-mail, telephone or fax
(1) If you send us an inquiry via contact form, e-mail, telephone or fax, the information from the contact form, including the contact details you provide there, will be stored by us for the purpose of processing the inquiry and in case of follow-up questions.
(2) The processing of the data entered in the contact form is therefore based exclusively on your consent (Art. 6 para. 1 lit. a DSGVO). You can revoke this consent at any time. For this purpose, an informal communication by e-mail to us is sufficient. The legality of the data processing operations carried out until the revocation remains unaffected by the revocation.
(3) The data you have entered or sent will remain with us until you request us to delete it, revoke your consent to store it, or the purpose for storing the data no longer applies (e.g. after we have completed processing your request). Mandatory legal provisions – in particular retention periods – remain unaffected.
7 Objection to advertising e-mails
The use of contact data published within the framework of the imprint obligation to send advertising and information materials not expressly requested is hereby prohibited. The operators of the pages expressly reserve the right to take legal action in the event of the unsolicited sending of advertising information, such as spam e-mails.
Hotel ELEÓN reserves the right to change this privacy policy.
The current version of the Privacy Policy is always available on the website of Hotel ELEÓN at https://www.hotel-eleon.de/en/privacy
Status: February 2022
Your Hotel ELEÓN
Cookie explanation